When visiting my parents in Cornwall recently I found a Victorian 'cabinet card' for sale for a few pence in amongst the bric-a-brac of a second hand shop. Coming from Cumbria, my first though was that it looked very much like a young Beatrix Potter and I brought it home to the Lakes to have a closer look.  Online, my search engine led me straight to the National Portrait Gallery where 69 portraits by Mendelssohn are kept. 
Some had the vivid orange-coloured cards like mine, and they were images of notable families of the time. The NPG text helped me to date this image to 1873 – this is when Mendelssohn's studio opened on Oxford Street in Newcastle – and no later than 1883, when he was said to have left for London.
The NPG images differ in that their cards read 'Oxford Street, Newcastle upon Tyne, London and Sunderland' and are dated c1880s. My card appears to be earlier as it shows only the Newcastle studio.
…
About H S Mendelssohn Photography:
Hayman Seleg Mendelssohn lived from 1847-1908 having moved to England from Poland.
"Born in Germany, Hayman Seleg Mendelssohn spent his youth in Poland. He fled to England for political reasons, where he began a photographic career, working for Daniel Downey in Newcastle upon Tyne. Mendelssohn subsequently set up his own studio there in 1873, first on Oxford Street and then on Northumberland Street. He moved to London in 1883, establishing studios on Cathcart Road, South Kensington, and Pembridge Crescent, Bayswater. A member of the Royal Photographic Society from 1884, Mendelssohn was also a founder member of the Professional Photographers Association." (Source: npg.org.uk)
It seems that Mendelssohn's decision to leave Poland in the 1870s was not unusual.  Millions did at that time due to social and political complexities:  "From 1870–1914, 3.6 million Poles left from the three empires that controlled Poland"  https://familysearch.org/learn/wiki/en/Poland_Emigration_and_Immigration.  Mendelssohn does seem to have made a good life for himself in England, joining the Downey brothers photography business, photographers who were popular with the royal family; "Among Queen Victoria's favourite photographers, the firm photographed at Balmoral and Frogmore … particularly for the Prince of Wales." (Source: http://www.npg.org.uk).   How Mendelssohn came to be connected with Downey and whether he brought any photographic skills with him from Poland I am not sure.  However, he is thought to be a relative of Albert Mendelssohn (born 1848) who also has photographic portraits kept in the National Portrait Gallery.  Albert was a photographer 'of London, Berlin and Hamburg' and also photographed distinguished sitters of the time; perhaps a family connection may have given Hayman the opportunity to step into such a high status role.
Mendelssohn's name appears in London photography publications of the time where he is mentioned as a 'high society' photographer.  In the book Oscar Wilde's Scandalous Summer by Antony Edmonds, a London Mendelssohn card dated 1894 describes him as 'High Art Photographer to the Queen and Royal Family'.  In the book, Oscar Wilde's wife, Constance, is reported to have written in a letter 'I have just been photographed by Mendelssohn and, as Oscar likes the photographs, I suppose that they are good.'
…
Beatrix or not?
The photograph below is of Beatrix Potter at 15 years old which would have been taken c.1881.  (Beatrix Potter was born on 28th July 1866). If the information I have found on Mendelssohn is correct it would suggest that (if it were her) she would be no older than 17 –  unless the Newcastle studio continued in Mendelssohn's name or his early orange cards were still in use beyond his departure.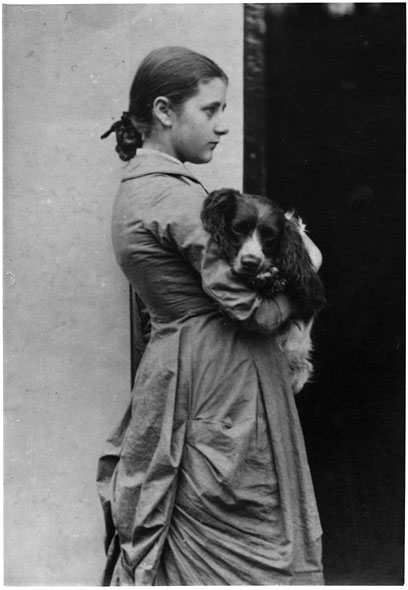 Photo: Beatrix at 15 years old (Source: http://www.vam.ac.uk/content/articles/b/biography-beatrix-potter/)
The two profiles are similar, even when I overlay them digitally, but I have no idea if the image I have is of the nature-lover and author, or another privileged young lady of the time fortunate enough to be photographed by a skillful and well placed photographer.  There is much more research I could do including perhaps dropping in to the delightful little Armitt Museum in Ambleside, maybe I will do that on a fine day.
Whoever the sitter is, and despite 150 years or so of wear and tear, I like this portrait of a serene yet slightly awkward-looking young lady reading her book.
As always, the photograph raises more questions than it answers, about the sitter and the photographer, also the question of how a Victorian photograph from Newcastle came to be in the junk shop of a small Cornish fishing village.  Its story has now become a part of my story – my memories of Cornwall, being with my family at Christmas, my thoughts and feelings at the time – all are now tied up in the long and complex history of this little piece of card.
…
Other sources not included above:
http://www.whistler.arts.gla.ac.uk/correspondence/people/biog/?bid=Mend_HS&initial=M
http://www.photolondon.org.uk/pages/details.asp?pid=5273
Victorian Cartes-de-Visite (Cartes de Visite) by Wichard, R and C (1999)